News Flash! Free (for now) Flower Mandalas meditation app
Owl and Elephant Design, a mobile application development group, has created a new meditation application that uses 21 of my Flower Mandalas. They are making the app, which normally sells for $2.99, available free from now through Sunday, October 21st. The app uses these Flower Mandala images: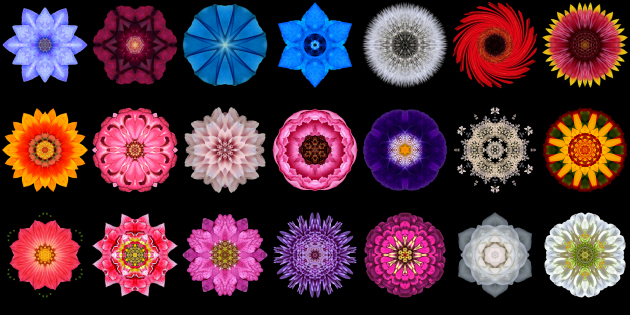 To download the app, go to the app's web page, http://owlandelephant.com/meditations, and click the "Available on the App Store" link.
The Meditations app is easy to customize. You can choose as many of the twenty-one Flower Mandalas as you like, determine the order the images display, select music or nature sounds to accompany the mandala display, and store all the meditations you build so you can use them at any time. The music and nature sound choices supplied with the app cover a broad range, from the sound of the surf at Point Reyes, California to the medieval music of Hildegard von Bingen and the New Age music of Sequoia Records. You can also choose music from your own collection. An introduction to meditation and a sample guided meditation are included in the app.
Meditation is a practice found in many cultures across human history and has served both practical and spiritual functions. In our time, meditation has been shown to alter brain structure and function in ways that decrease anxiety, relieve stress, and help to create a more positive, resilient outlook.
The Meditations app is the first of a series of apps developed by husband and wife team Linda Olsheska and Donald Brenner. In exchange for their free offer of the Meditations app, they ask that you leave a rating and comment in the App store after you have tried it out and, hopefully, added meditation to your daily routine.
Thanks for giving it a try.
More anon,
David
Text and images © 2012, David J. Bookbinder. All rights reserved.
Permission required for publication. Images available for licensing.
davidbookbinder.com